Sport Horse Nation Spotlight: Packer Paradise
In the market for a new four-legged partner? You may find your unicorn on our sister site, Sport Horse Nation. To help with the search, we're going to feature a selection of current listings here on
In the market for a new four-legged partner? You may find your unicorn on our sister site, Sport Horse Nation. To help with the search, we're going to feature a selection of current listings here on EN. We include the ad copy provided; click the links for videos, pricing and contact information.
Sometimes, you just need a solid partner in your stables — one that can help you step up a level, find your competitive rhythm, and show you a jolly good time while doing so. That's where packers come into their own: they've got plenty of experience at your goal level, and have usually helped other riders before you make a move up the rankings. We've picked eight of our favourites from Sport Horse Nation to help you hit those autumn season goals — and beyond.
High Note also know as "Totti" is a Junior/Amauter's dream! She is a Training Level Packer with no buck, bolt or rear. Big, lovely movement and fun to jump. She has been brought up by a junior rider and is ready to show her next rider the ropes as current owner is off to college. She recently competed Training at Twin Rivers and ready to show! She is happiest living out but will be fine in a stall with turnout. No injuries, no special shoeing and little to no maintenance required. Trainers: She is a safe, with a light mouth and a big step so not for complete beginner but will tolerate. No lunging required. Orangevale, CA.
Logan is a 15 yr old, 16.2H, OTTB. He is a wonderful horse, very competitive and workmanlike. His amatuer owner has shown him up through Training level and he competed last fall at Preliminary level. He is a very forward horse and would also do well in the Jumpers. He is very tidy and athletic. Owner no longer showing and would like to make this competition horse available to the right home. Springfield, MO.
9 year old Irish Sport Horse with lots of miles at training level with a junior. Completed two training three days and is a cross country machine. Always enthusiastic to work, great on trails and ready for his next partner. 35k. San Ramon, CA.
Carson Too
Carson is an 11-year-old, 16.1h, sport bred TB, gelding that has never trained for nor been on the race track. Carson is a talented eventer that has showed up to modified level with his junior rider but could easily move up the levels. At home, Carson has schooled up to 3'9" and 4th level dressage in a double bridle. Carson is confident in all three phases, an extremely motivated and honest jumper in both show jumping and cross country and an elegant mover in dressage. Carson is sound and has never been injured. He has a big, warm, lovable personality and will cuddle anyone he feels comfortable with. Carson was brought along by a junior rider who got him when she was 12 years old. He is a fun, willing and loved horse, but unfortunately his rider is heading off to college and being forced to take a break from riding.
Visit blueridgefarmeventing.com for more info and other horses for sale. North Ridgeville, OH.
The Alchemist "Topper" is a stunning grey 2012 TB gelding standing 16.3 hands by Domestic Dispute out of Star Punch. Competed through Preliminary and produced by an amateur. Topper is CCI** qualified and ready to move up to Intermediate. Consistently scores low 30's in dressage with a careful, scopey jump over fences. Trail rides out alone or group. He is sound and low maintenance. Well suited for amateur, professional, or young rider. Winner of Area 1 OP Championships 2021. This horse is a true athlete with a gentle disposition and eagerness to please. Full set of X-rays taken July 2022. More pictures and videos are available upon request.
Located in Jericho, VT (20 minutes from BTV airport).
Silk Market is a 2007 mare by Ringfort Tinkatoo out of the thoroughbred mare Castaway. She has extensive experience in Eventing through preliminary and would make an excellent lower level school master or would excel in the jumper ring. Produced by an amateur 'Darby' is easy in every way.
14 y/o, 16.1h, Thoroughbred Gelding by Matty G
Gaucho is looking for his next job as a prelim packer! He's a lovely, fluid mover who scores consistently in the low 30s on the flat. He is incredibly safe on XC, and competitive, as he hasn't had a XC penalty in over 7 years. He competed successfully at Intermediate with an adult amateur and and is back competing solidly at Preliminary with a young rider. He is easy to have around the barn and at shows, and his next partner will be very lucky to have such a consistent, experienced teammate. Suitable for a young rider or adult amateur looking to have fun and gain miles at the prelim level. Ready to go competing this summer!
Priced low to mid 5 figures.
Please contact Jen Carter (352) 342-1704. Citra, FL.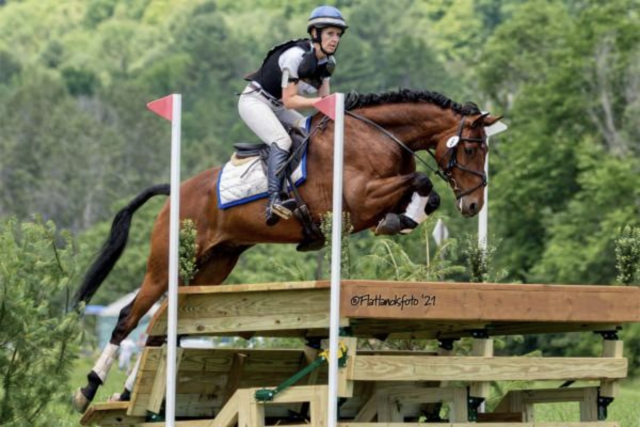 Are you looking to be super competitive? Or are you looking for a partnership with a well trained and kind animal?
Here's your guy!
Joshua Tree is an 8-year-old, 16.2h, Holsteiner Cross gelding with multiple wins at Preliminary and Training. The gelding is by Acore out of Gijit.
He has been produced by an amateur and is an absolute packer. His quiet and uncomplicated manner makes him a lovely, serious horse for a junior or amateur. His beautiful movement has scored as low as a 23.7. He is a horse for someone looking for a beautifully trained, easy, sweet mount and at the same time, a fancy and winning one.
He would be happy to continue up the levels or just as comfortable bringing his rider along. He would excel as a pure show jumper too.
I can't say enough nice things about this genuine creature. He's one that does not become available often! Nottingham, PA.