Plot Twist! Sandra Auffarth Wins Aachen After Flag Rule Drama
Late last night, once all the reports were written and photos edited, I sat down in Aachen's cozy riders' bar to have a chat with Diarm Byrne, one half of the EquiRatings leadership, to discuss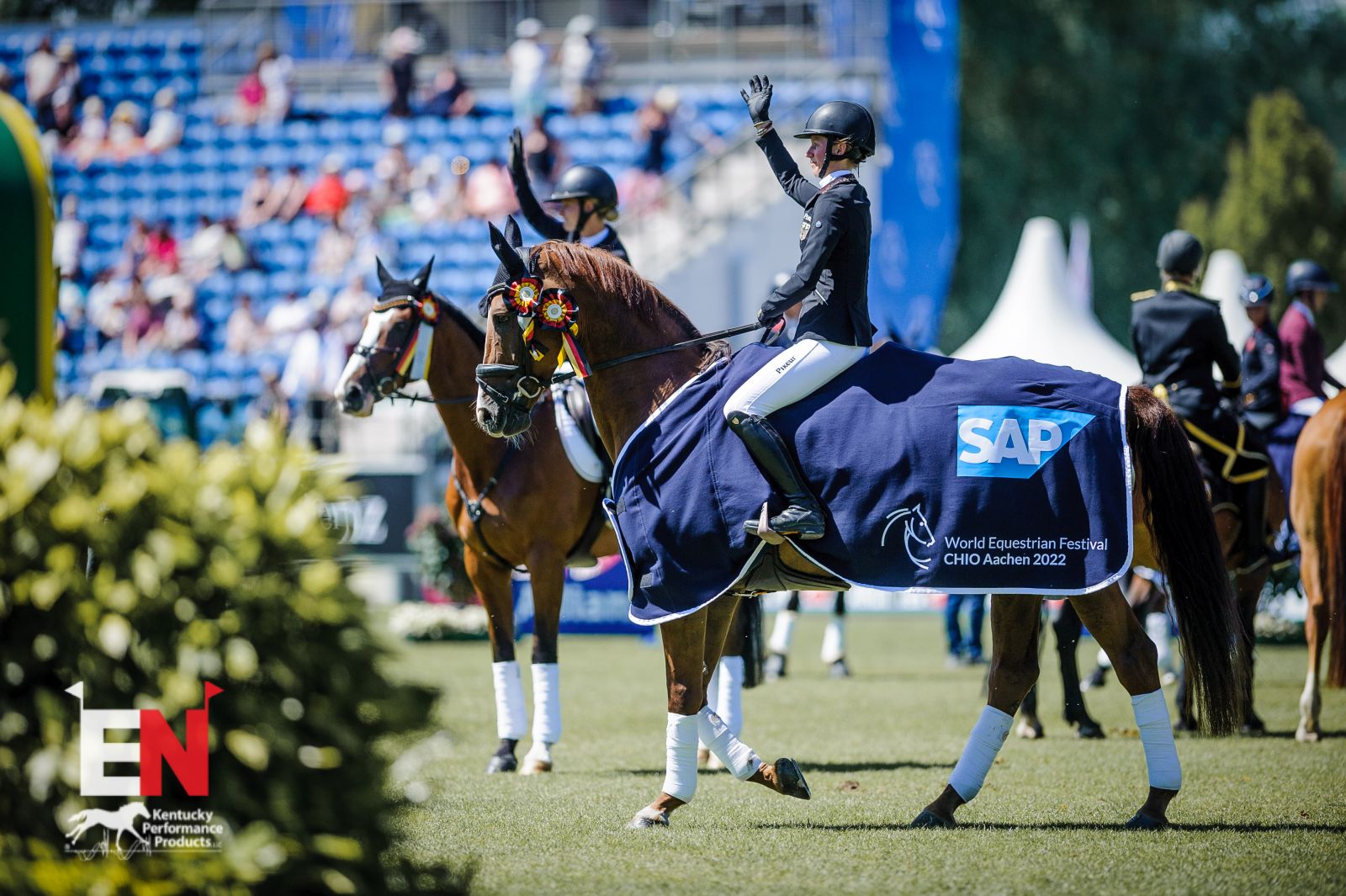 Late last night, once all the reports were written and photos edited, I sat down in Aachen's cozy riders' bar to have a chat with Diarm Byrne, one half of the EquiRatings leadership, to discuss how we felt about the competition – and namely, about a competition whose winner had felt set in stone from the moment the entries were finalised. With eleven seconds in hand over his nearest rival, Michael Jung's victory with Kentucky champion fischerChipmunk FRH felt more inevitable than any other I can remember, and while we turned over the intricacies of the situation — that we're extraordinarily lucky to watch the most dominant event rider of our era in his zenith; that horses are horses and eventing is eventing and anything can happen, even a (contentious) MIMclip at Tokyo — it was still odd to go into the final phase of the most important, difficult CCI4*-S in the world and not feel the thrum of butterflies over what might happen.
But how wrong we were, hey? True to form, Rüdiger Schwarz's clever, tricky track exerted plenty of influence on the leaderboard throughout the day, with 29 of the 38 starters (4 had withdrawn prior to cross-country) completing the course and just 23 doing so sans jumping penalties — but Aachen is all about the time, which nobody would catch. There were some significant competitors who lost their foothold in the top ten, too: Buck Davidson and Carlevo would tumble from 7th to 27th after a forward run down to fence 18BC, a double of angled hedges, saw them run out the side door of the C element, while Tim Price and his Pau winner Falco would end their day at 16ABCD, a coffin combination with an owlhole as the C element. The game, excellent-jumping gelding looked to find his way to the owlhole on a half-stride and ultimately scrambled through it, losing momentum midway and getting himself temporarily caught in the middle. Though both horse and rider are absolutely fine, Tim's wise choice to jump off and help his horse find his way out of the fence took them out of the running.
Once we got to the end of the morning, though, the final ten competitors were run in reverse order of merit, and this creme de la creme of an Olympic-calibre field largely made the course look easy – or as easy as a course of this intensity can look, anyway. William Fox-Pitt and Little Fire and Tom McEwen and Toledo de Kerser, third and second after dressage, respectively, sailed home — albeit with time on the clock — while fifth-placed Sandra Auffarth added just 1.2 time penalties to sail into the top spot with an on-form Viamant du Matz with just one rider left to go. That rider, of course, was the one we felt we could watch with half an eye on the course.
Until he wasn't. Halfway through the course, Michi and Chipmunk found themselves off the stride as they approached fence 14, a right-handed brush corner, and though the 14-year-old gelding flung his forelegs up and almost over the fence in a valiant attempt to get through the flags, the effort was neither pretty nor obviously clear. Quickly, the decision flashed up on the live scores: 15 penalties had been awarded for missing a flag, using up all of Michi's buffer and then some. Just as quickly, the 15 disappeared. He was clear, and remained so, crossing the finish line with just 1.2 time penalties to his name, and a coveted win at Aachen. The result was announced, the media assembled, the television interviews completed in that customary post-win frenzy, and then we headed in to begin the official press conference. As the seats started to fill and we waited for the final couple of riders and officials to appear, a merry Michi passed the time chatting.
And then the news came in, via a member of Aachen's organising team: "There's been a protest against Michael's score," he said, rather grimly. "We'll need to delay this press conference."
I'll spare you the details of the achingly long time we all spent waiting, discussing, watching and rewatching available footage, and debating the flag rule. When we were all summoned back to the press room, it was without knowledge of whether the clear had been rescinded or upheld; the announcement was made to us, rather, by a change in the nameplates laid along the length of the press table. Michael Jung was gone. Sandra Auffarth had won Aachen.
It's a funny old thing, the idea of winning an enormous, prestigious class like this and finding out well over an hour later, once the rush has worn off, and knowing that your teammate has had to suffer an enormous disappointment in order for it to happen. But all's fair in love and war, as they say, and Sandra knows both ends of the spectrum well: the former World Champion has also suffered frustrations and heartaches on course, including an uncharacteristic 20 penalties in Tokyo last year with the thirteen-year-old Viamant du Matz (Diamant de Semilly x Heralina, by Voltigeur le Malin).
"Of course I'm happy, because for me it's important that the sport is fair and just and that the decision was fair," says Sandra. "If the decision was fair for Michi, then I was glad to be second place, but when it's fair that I'm the winner, then I'm more happy!"
As far as a redemption arc goes, this is a pretty great one: the one occasion on which she previously won this class, back in 2014 with the excellent Opgun Louvo, she then went on to become World Champion later in the year with the same horse.
Though Viamant du Matz hasn't yet got quite the same resume as his predecessor, the Selle Français is certainly heading that way. Over the last two years, we've seen his results get better and better, and the majority of his international results in that time — ten of fourteen since the start of 2020 — have seen him finish in the top ten, and usually at the business end of that. His tendency towards a touch of tension in the dressage arena, which can see him travel behind the vertical, means that he sometimes flirts with the very low 30s, but we've also seen him deliver scores in the low 20s, and he averages something in between the two — which meant that his 28.3 yesterday, which put him in eighth place, felt pretty much right on the money for what we'd expect to see from him. His foot-perfect, fast showjumping round, which was one of just nine totally faultless efforts last night, boosted him to fifth, and his scant 1.2 time penalties — the second fastest round of the day — today made him ultimately unassailable as the whirlwind of the afternoon played out.
"In the cross-country he's a super horse, and now he has the right experience — a few years ago I was here with him and he was a bit green," says Sandra, referring back to 2019, when the gelding — who at that point, had already contested the previous year's WEG, though abortively — picked up 40 penalties on course here. "Now, I'd say he understands every question, and he was fast and excited and super good jumping, and he was listening to me all the time. That was fantastic."
Aachen is undeniably one of the crown jewels of our sport, and even more so for the German riders, who sail around the course buoyed by the cheers of their enthusiastic home side. For Sandra, it's a place of particularly happy memories: long after winning here in 2014, she retired her World Champion Opgun Louvo in an emotional ceremony in the main arena, and outside, you can find one of his shoes inlaid into Aachen's equine walk of fame, alongside the likes of Totilas.
"The atmosphere altogether was amazing to ride. Aachen is super special," says Sandra with a smile.
Australian superstars Andrew Hoy and Vassily de Lassos – who Andrew fondly refers to as his 'ginger unicorn' — stepped up to second place, climbing from first-phase sixteenth place to very nearly finish on their 30.1 dressage score. In the end, all they would add to that was the 0.4 time penalties they picked up today when they delivered the fastest round of the day, confirming their status as one of the sport's most formidable partnerships.
"It's an absolute privilege to have a horse like that," says Andrew, who won individual bronze and team silver with the Anglo-Arab (Jaguar Mail x Illusion Perdue, by Jalienny) at Tokyo last year, and who took the ride over five years ago from France's Tom Carlile. "He's a horse that I've worked with since 2017, and we've developed a very good relationship. There was not once on the cross-country course where I pressed the button and said, 'come on, you have to go!' He's a horse that can just run and jump, and for me, it was a very nice ride."
Andrew, who spends much of his time competing in continental Europe rather than in England, where he's based, praises Aachen for its unique simulation of the demands of competing on the world stage: "This is a proper championship show ground in every aspect, and it's stunning, from the dressage stadium onward — it's just done perfectly," he says. "To be able to showjumping in the main stadium is very, very special, and the ground is special, too. The horses either rise two centimetres when they go out there or they go two centimetres lower, and the really special horses are the ones that rise to the occasion. And as far as cross-country goes, I've always rated Rüdiger as one of the great cross-country course designers of my time, and I still rate him that way. I think he's got a very good feel for what creates a good competition, and he's very fair to the horses while testing the riders and their skills. It creates really good sport, right 'til the last one comes through the finish line."
It would be hard to deny that Tom McEwen and Toledo de Kerser, who picked up team gold and individual silver at Tokyo last year, are among the most consistent and competitive pairs on the circuit — but even those on top of the world aren't immune to a run of bad luck. Certainly, Tom's 2022 hasn't gone the way he'd have hoped so far: he went to Badminton as the favourite to win but had a freak fall at a line of bounces late on course, then fell at the penultimate showjump at Bramham with Dream Big, who was sitting in the top ten, and then fell at the penultimate cross-country combination at Luhmühlen with Bob Chaplin after a dog ran onto the course. That funny spate, though, looks to have come to a merciful end today. Toledo has been on excellent form throughout the competition: he began his Aachen bid with a 26.4 and some much improved walk work, putting him in third place, and he's stayed on the podium throughout, delivering his characteristically excellent showjumping performance last night and running boldly and confidently today.
"The horses at the yard are actually going so well this year, it's just that I've made a few mistakes — but you learn, and you move on, and you have to get better from it. I'm very lucky to have some amazing horses, and if you get hung up on what's already been, you'll only go backwards, so you might as well enjoy them for what they are and let them enjoy what we're doing. It's sometimes a little more difficult to put it all aside, especially when it feels like it keeps going for a while, but I came back with my hat intact today, so that's definitely a bonus!"
Though Tom may be quietly ruing the 6.4 time penalties that cost him the win, he's certainly not focusing on it — if the job today was to tick a box and prove that Badminton was merely a blip on the radar, he did exactly that, making his bid for Pratoni selection look as appealing as it ever has.
"I was being as competitive as I could without taking a risk too many," says Tom. "He jumped really well and took on all the fences, and the intensity for him actually hypes him up — he's unique in his own sense. He's so keen, and he wants to jump everything; he was lining up every single driving obstacle as well as the jumps. He's an absolute freak."
Toledo (Diamant de Semilly x Ariane du Prieure II, by Papillon Rouge), who Tom says at 15 'feels like an eight-year-old', is a rare horse in our sport: preternaturally well-suited for bold, galloping long-format tracks, he's also blessed with the fast footwork and adjustability to make light work of much more technical continental efforts, such as Pau, which he won in 2019, and today's track.
"The cross-country felt really good," says Tom. "It's very different from our courses [at home]; Rüdiger got us really flowing for a minute and then it got intense. That intensity just gets higher and higher; there's seven or eight efforts in the last minute and that's not like Britain. On British courses you can usually make up fifteen seconds, not lose about thirty! So I knew I was down on the clock, but for me, it was just about jumping the fences and keeping him calm."
Joseph Murphy has long been a stalwart of the Irish team and a familiar presence at five-stars around Britain and Europe, but over the last couple of years, it's been a particular joy to watch him build a relationship with the former Laura Collett ride Calmaro, who looks tailor-made for him. Now, the results are proving it: since last April, they've had three CCI4*-S top tens, a fourth place at CCI4*-L, a fourteenth-place finish at Pau CCI5*, a ninth-place finish at Kentucky CCI5* — and now, a hugely exciting fourth-place finish at Aachen, considerably bettering their still very respectable 17th last year.
"It is unreal — and it's very clear with that horse how far he's come," says Joseph of the eleven-year-old Brandenburg by Carpalano. "That's the really rewarding part. He's a horse that really forced me to have a partnership with him — if it was going to work, that's how it had to be done. That really forces you to think outside the box and create something different, and that's what I've tried to do. He had to become my friend, and that's what he is, for sure. We have this special bond, and that's a nice feeling. From the first day I rode him, I felt something there; what it was, I don't really know, but what he did today is probably the reward for going with my feel."
The partnership, which Joseph cultivated by spending extra time just hanging out with, and interacting with, the horse on the ground, paid dividends today as the pair navigated the course to finish on a gutsy clear with just 3.2 time penalties, completing an uphill climb from their first-phase 21st place. Just under two years into their union, it's all still about the building blocks — but that hard work and steady process is paying off.
"We ran him a lot at small stuff so I could get to know him and find his quirks — and we almost got to the point where we were thinking, 'are we running him at too many things?' But they were all four- or five-minute courses with little questions, and it was just our plan for the first year to really build up that partnership. Now, I feel like I can do anything with him — I can jump any line, and travel at any speed I was, and when you have that air of confidence the horses feel it as well, and then they have that belief in it too. So of course there's still weaknesses in the partnership, but we're both in this frame of mind where it's not a negative thing, we both just want to be better each time out."
Several horses and riders in the field were here seeking redemption, and one up-and-coming superstar who certainly managed it was Germany's Sophie Leube. Sophie, who began her career as an apprentice for Ingrid Klimke, finished fifth with the spicy, extravagant Jadore Moi (Conthargos x Juanita, by Asi), adding just 2.4 time penalties to their two-phase score of 31.5.
It's interesting to compare their performance this week to that of last year in Aachen: though their 27.5 didn't rival last year's 24.5, which saw them take the first-phase lead, they've halved both their showjumping rails — from two to one — and more than halved their cross-country time, from 5.6 to 2.4. Though their very early retirement in their five-star debut at Luhmühlen might look like a significant blip on their radar, it's important to recognise what they've accomplished in a short period of time (namely, winning Boekelo CCIO4*-L last season in what was only both horse and rider's second CCI4*-L) and to consider the retirement in context: Sophie opted to pull the mare up after an extravagant jump into the first water made her struggle to regain her reins in time to complete the question asked, and wisely chose to save her horse for another day. That day was today, and that call may well have just helped to earn them a spot at Pratoni. Watch this space.
Though last year's winner, the USA's Will Coleman, had to relinquish the title today, he won't be moping: not only did he jump clear with his two rides today, he finished in the top ten with both of them. Best of the bunch was last year's winner, the 'kitchen table with a Ferrari engine' Off the Record (VDL Arkansas x Drumagoland Bay, by Ard Ohio), who began his week in ninth place on a 28.5 and then dropped to thirteenth after tipping a rail last night. Today, his was the third fastest clear of the day, allowing him to springboard himself back up into the business end of the leaderboard and add another sparkling accolade to his extensive CV.
"He's a dear horse to us, obviously," says Will. "He showed who he is today: he's just a gritty kind of fighter, and he gave us everything he had. I'm really proud of him."
For Will, who relishes an opportunity to learn, improve, and meet the global standard in eventing, Aachen is a particularly special place for ticking all those boxes — and then some besides.
"It's a really class field, and so I think it was a great measuring stick for us in terms of seeing where we are and where we can get better," he says. "That's why you come here: it's sort of a championship feeling without being a championship, but this year particularly was an incredible group of horses and riders. I just feel lucky to be here."
His second ride was the exceptional Chin Tonic HS (Chin Champ x Wildera, by Quinar Z) who, at just ten years old, has embarked on something of a graduate degree in eventing this summer. He finished eleventh in the CCI4*-S at Luhmühlen, at which he led the dressage, and though he felt slightly starstruck by the atmosphere there, the emotional maturity he gained from the experience was palpable in his performance today.
"I honestly think he was better today in some ways," says Will, who began the competition in second place on a score of 25.8 with the expressive gelding, dropping to sixth after hitting a rail yesterday and then adding a sensible, educational 10.8 time penalties today to ultimately finish tenth. "I think this was a more challenging track [than Luhmühlen], and the time was certainly difficult as well. I was just happy with how he handled the whole atmosphere, and everything that is Aachen — it's a lot mentally, and that course particularly was relentless. I really do think he's grown an awful lot in these three weeks here in Germany, and that was the whole idea for me. We're just going to keep trying to get a little bit better, but I'm really excited."
For Will, today brought an additional challenge: he was one of just three riders to pilot two horses, and both required different rides completely.
"They couldn't be more opposite horses — Chin Tonic's like a French poodle, and the other's like a bulldog," he laughs. "But my ride on Timmy informed me a little bit about the course for Chin, but you do have to ride them as individuals. The plan for both was pretty similar with some minor tweaks, so it wasn't a big adjustment, but I knew Chin was going to struggle a little bit more with the time, because that's just the way that he goes. It's hard to be quick around a course like this, but he jumped everything really well. I loved how his brain worked out there; he was really thinking with me, and that's a nice feeling."
William Fox-Pitt came into today's cross-country in third place, but couldn't quite hold onto it: he ultimately finished seventh with his five-star partner Little Fire (Graf Top x Heraldiks Angara, by Heraldik) after adding 7.6 time penalties.
Though William, who has made the time on a couple of occasions previously at this venue, didn't manage the feat today, he was full of praise for how the track and show were run.
"They build.a fantastic course for this level, and it's always tough in Aachen with the atmosphere and the whole build-up. It was pretty speedy out there today, which you can see because no one made the time — and some of us went slightly too slow," he says. "But in seven minutes, there's not a lot of opportunity to get in the rhythm and make up time, nor are there good galloping areas, particularly with that intense last minute."
Though Michael Jung's wobbly effort at fence 14 ultimately cost him the win with fischerChipmunk FRH (Contendro I x Havanna, by Heraldik) he made the rest of the track look extraordinarily easy — almost like a Pony Club track in many places.
"It feels like that, too," he says with a smile. "He's an amazing horse; so powerful, and so fast, so I just try to let him gallop. But I try to keep him relaxed and quiet, and to give him a good balance everywhere. He can jump amazing, he has a lot of scope, and he's a clever horse, so it's really a lot of fun."
Olympic individual gold medallists Julia Krajewski and Amande de b'Neville (Oscar des Fontaines x Perle de b'Neville, by Elan de la Cour) have received some of the loudest cheers of the week from the enthusiastic audiences, and rightly so: their win in Tokyo was a fairytale come to life, and they return to the world stage at Aachen as poster girls for the sport. They made a classy effort around the track today, too, finishing ninth after adding 5.6 time penalties – though the clever, catty mare wasn't running at top speed.
"I maybe didn't go out to 100% make the time, because I thought, 'well, I can't win it, and the big aim is at the end of the year'," explains Julia, who set off conservatively in order to focus her efforts on settling her still relatively inexperienced mare into a rhythm. "I did want to give her a good round. She was very rideable, which then left me a bit surprised, so I didn't make up enough time in the first two minutes — but she was super good at the jumps and answered all the questions. I really can't complain about her; she's super cool to ride cross-country, and she's really genuine, honest, a good galloper, and a good jumper. And she's grown up so much now that it's quite predictable for me how she'll do each combination, which is really cool."
Though 'Mandy' is an Olympic gold medallist, she's come of age in the pandemic seasons, and so today was the first time she'd ever come face to face with significant crowds — but she stepped up to meet them enthusiastically.
"I think that's something really important for her to take away. There's been nothing big, really — she saw a little bit in Wiesbaden [last month, where she won], but this is a really different sort of atmosphere and she's only twelve now, so before Covid she was nine and didn't go to the big events."
Julia came to Aachen with a secret weapon in her pocket: she trains for cross-country with course designer Rüdiger Schwarz.
"I did maybe have a little advantage, because I've trained with him for eight years and so I know his ideas a little bit. He's always about forward but correct riding; horses have to be responsible, but you mustn't think backwards. He's always shouting at me, 'don't pull! Don't pull!' So I heard his voice a little bit in my head out there! It's a track that really tests how you develop your horse; how you have your lines, and basically how well you and your horse are. I like it — it rewards good, correct riding, but you have to be on it."
In the team competition, Great Britain pulled off a pillar to post win, with Tom and William providing two of the counting scores, joined by senior team debutant Yasmin Ingham and Rehy DJ, who finished twelfth individually.
"It's so nice to come and be in this atmosphere and be in a team environment and on my first senior Nations Cup team on a horse that isn't the one who everyone's eyes are on," says Yasmin, referencing her top horse Banzai du Loir, with whom she was second at Kentucky this spring. "Rehy DJ really held his own within some really good company; he did a lovely, accurate, clean test and his usual classy clear jumping round, which is always good, and while we always knew he'd struggle with the time, but in terms of experience for him and I, to go around that sort of track has done us both the world of good. He's funny, because he's such a cute little character and he's nothing super big and flashy, but he just does the job, and that's all they need to do. It's been a pleasure to have him here this week, because I love riding him — he's a little diesel engine."
The home nation took second, a spot they'd held through the week, and France stepped up to third, despite an up-and-down day for their riders. The US, who'd been third after showjumping, dropped to a final fifth place after issues on course for Buck Davidson and Carlevo and Meghan O'Donoghue and Palm Crescent, who completed with jumping penalties, while Sydney Elliott and QC Diamantaire jumped clear with 7.6 time penalties to take 17th place.
CHIO Aachen Links: Website|Entries|Live Scoring|Live Stream|EN's Coverage|EN's Insta|EN's Twitter